Pavones, Costa Rica is a small community (actual name: Rio Claro de Pavones) that is nestled along the northern shores of the Burica Peninsula just north of where the Rio Claro spills its contents into the Golfo Dulce, creating one of the longest surfing waves in the world.  It is often referred to as Playa Pavones, or Pavones Point.
Pavones, Costa Rica, actually refers to the entire area along the shores of the Golfo Dulce, encompassing Bahia Pavon, and includes the pueblos of Punta Banco, Santa Clara, Rio Claro de Pavones, La Hierba, Cocal Amarillo, Puerto Pilon & Langostino.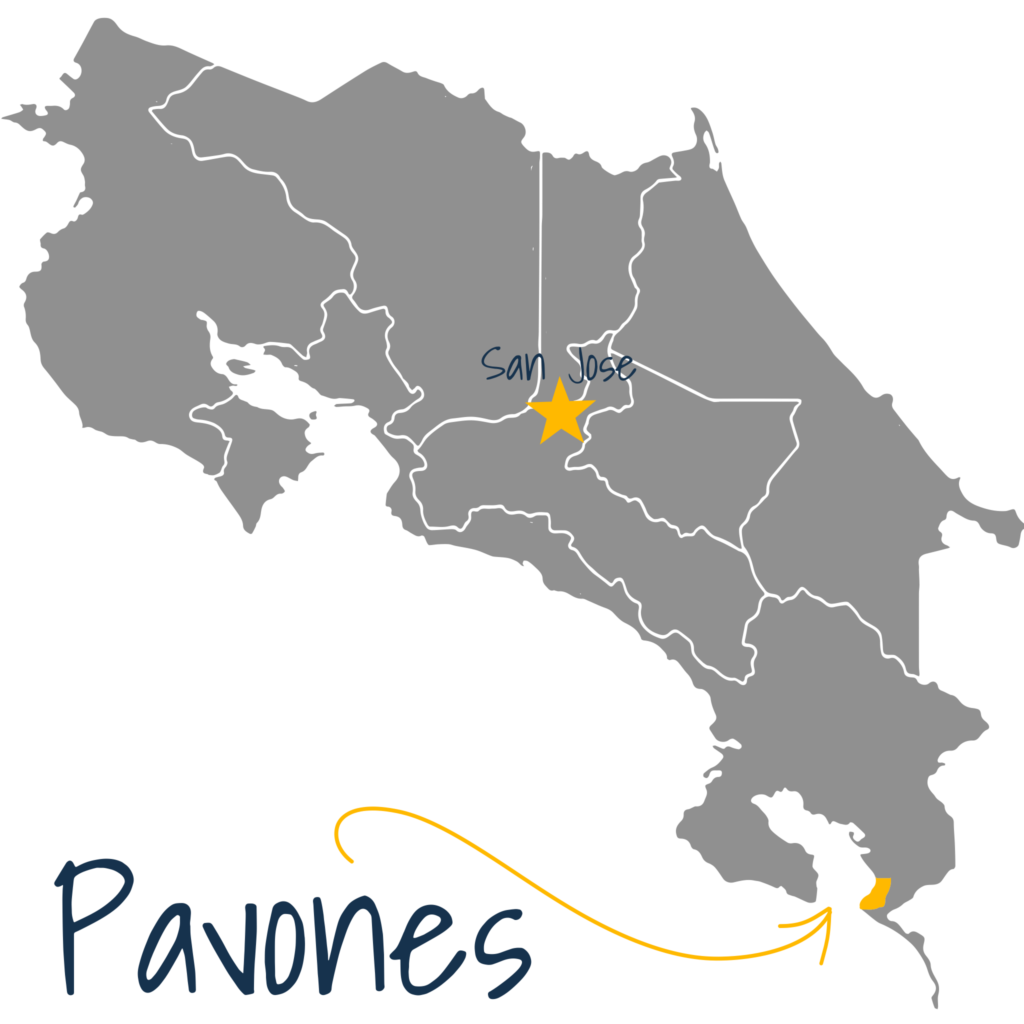 Pavones, Costa Rica offers several restaurant options to choose from.  Fresh local ingredients include organic vegetables and freshly caught fish.  Try the local ceviche, it's delicious!
If you are looking for an intimate dining experience while visiting Pavones, we can help arrange a local chef to prepare your meals each and everyday.
There are lots of budget accommodations options in Pavones, Costa Rica close to the beach.  For as little as $15 per night you can find a bed in one of the local hostels.
If you are looking for a bit more privacy and nicer beach accommodations then you can search our vacation rental property listings.
Pavones currently has four grocery stores and several small "pulperias" where you can purchase food and supplies.  Every Friday and Monday, the "Veggie Truck" sells fresh vegetables at the plaza in Rio Claro de Pavones.
Currently, there is one auto repair shop and one hardware store in Pavones, Costa Rica.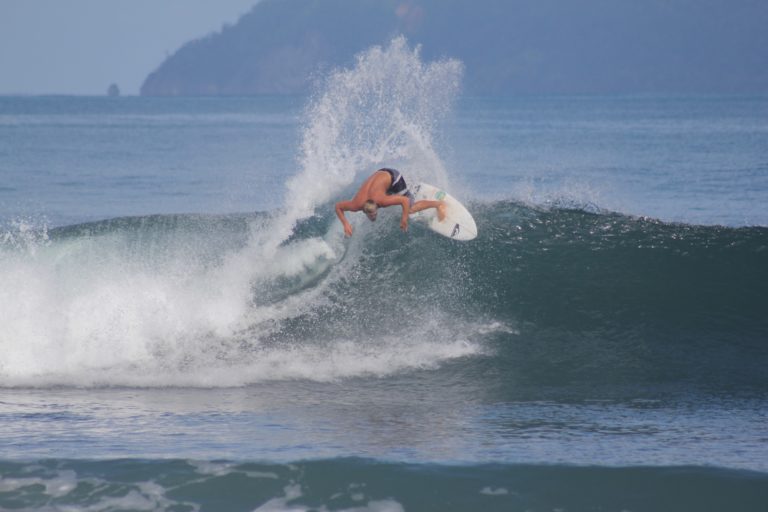 Playa Pavones is home to one of the longest and best left breaking waves for surfing in the world.  Surfers and travelers from around the globe visit ever April-September to catch the perfect waves that break along the beach in Pavones.  If you don't know how to surf, or are just then you should take a surf coaching session with the crew at Una Ola Surf Camp.
See the Most recent updated Pavones Surf Report
There are lots of places to stay in Pavones, Costa Rica. Most accommodations options are low-budget cabinas and hostels, however there are many of vacation rental homes, luxury vacation homes, boutique hotels and private residences available for rent in Pavones, Costa Rica for long and short term rentals. What type of rental property are you interested in?
Contact us to learn more about vacation rental options in Pavones.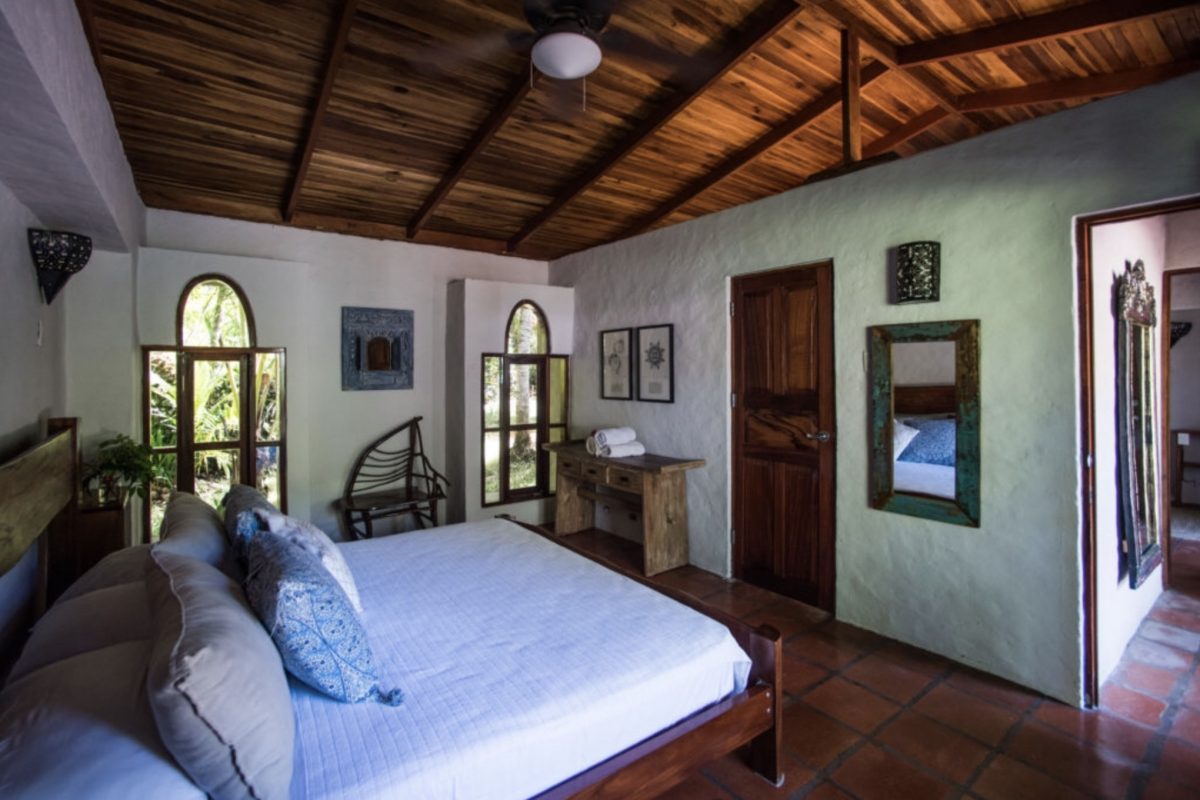 Surf travelers from around the globe visit ever April-September to catch the perfect waves that break along the beach in Pavone
Yoga is popular in the community with multiple opportunities for beginners, instructors and everyone in-between.
The rich waters of the gulf are teaming with all types of fish.  You can hire a boat, or fish from shore, it's up to you, but it's a great way to pass the time in Pavones.
There are tons of trails to hike up into the hills surrounding Pavones as well as beach front hiking the entire length of Bahia Pavon 
Getting to Pavones can seem difficult for the uninitiated, but it's gotten simpler over the past few years, whether you decide to drive down to Pavones from anywhere in Costa Rica.  The coastal route from San Jose has really improved in the last decade, as well as the road from Golfito to Pavones in recent years.  
The airport in Golfito (GLF) has been recently renovated, allowing more flights from San Juan Santamaria International Airport (SJO) as new local carriers begin add more options to fill the gap since Nature Air has been grounded. 
Our Pavones, Costa Rica travel directory is a great place to start to plan your vacation.
Pavones has lots of options for adventure travelers, looking for a naturally sustainable tourism experience.  One that helps to support the community, while providing the traveler with valuable lessons, and experiences, combined with a focus personal contribution and growth.  This is what we believe to be the future of tourism in Costa Rica, and especially within our local area!  
If you want to learn more about adventure tours and experiential travel opportunities in the Pavones area, please contact us for more information! 

Phone: + 1 (888) 958-7873
Email: info@pavonescostarica.com
Fax: fax@pavonescostarica.com
Playa Pavones, Golfito, Costa Rica